Nana Dot's Southern Sweets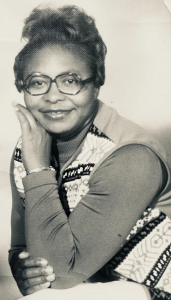 Nana Dot's Southern Sweets is an online bakery based in Fort Worth, Texas that specializes in Southern & Gourmet desserts. We deliver locally (within 24 hours) around the Dallas-Fort Worth Metroplex and we ship across the United States (shipments arrive in 1-2 days depending on the destination).  
Dorothy Louise, also known as Nana Dot, was born in Toxey Alabama where she began cooking at the age of fourteen. She was originally taught by her Aunt Mary Catherine and over the years mastered both the art of cooking and baking. Friends and family alike would rave about the goodness of her sweets and especially "that sweet potato pie." As a recent widow and mother of three girls Nana Dot seldom had the time and resources to take her skills in the kitchen outside of her community. However, in 2007 Nana Dot began sharing her Southern recipes with her granddaughter Audris Jimea who over the last decade has been building a platform for the world to experience the goodness of those Southern Sweets.
"The taste of these Southern sweets will leave you wanting more because each batch is prepared with a touch of love and a sprinkle of happiness that is disguised as sugar, cinnamon, and butter."
~Audris B